Why is Blackjack so popular?
Blackjack is the most popular of all the Casino Games and it's easy to see why. With a theoretical house edge of just 99.8% for certain variations, the player has a greater chance of maximising their playing time or even beating the house at Live Blackjack than any other game. It was once believed that Card Counting allowed a player to sway this 0.2% house advantage to as much as a 2% advantage in favor of the player, turning Blackjack into a highly profitable game for those who could think quickly enough.
By the Book
It is widely known that Online Blackjack has a 'by the book' playing strategy that many adopt in order to help increase their chances of winning. This strategy is based on the probability that certain cards will be drawn from the deck to improve the hole cards that both you and the dealer have been dealt.
Below is a table which shows how to act in every possible situation on a Blackjack table, regardless of your table position or how many hands have been dealt: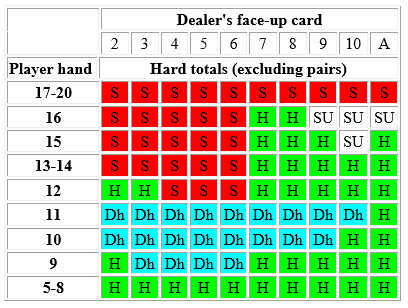 The table above assumes that the dealer must stand on soft 17 (an Ace and a Six) and that you can double any two cards (some variations won't allow a player to double if their hole card total is 9 or less).

Basic strategy denotes that you should always play to reach 17 or more, unless the dealer shows a 3, 4, 5 or 6. If you have less than 11 and the dealer has one of these cards, always hit until you have more than 11. Never risk busting when the dealer shows a 2 through 6. "Why?" we hear you ask…well there are five times as many 10 value cards than any other, so if you assume the dealers face down card is a 10 and expect them to draw a 10 (they only have 16 maximum remember, so they have to take a card) then there is a good chance that they will bust. Like we mentioned before – this strategy is a game of probability, much like Hold'em Poker.
The next table shows how to play when you have a 'soft' total. This means that you have an Ace as one of your hole cards which can count as either 1 or 11.
Soft totals
2
3
4
5
6
7
8
9
10
A
A,8 A,9
S
S
S
S
S
S
S
S
S
S
A,7
S
Ds
Ds
Ds
Ds
S
S
H
H
H
A,6
H
Dh
Dh
Dh
Dh
H
H
H
H
H
A,4 A,5
H
H
Dh
Dh
Dh
H
H
H
H
H
A,2 A,3
H
H
H
Dh
Dh
H
H
H
H
H
Assuming the same game rules as above, you should always take a card when your total is 13 through 17. The table shows to double down whenever you have 17 or 18, this is because you again have to assume you will pull a 10 from the deck and match the same result, effectively doubling your bet and giving you a good chance of beating the dealer, who will be showing a 3, 4, 5 or 6.
Finally, a table for paired hole cards…
Pairs
2
3
4
5
6
7
8
9
10
A
A, A
SP
SP
SP
SP
SP
SP
SP
SP
SP
SP
10, 10
S
S
S
S
S
S
S
S
S
S
9, 9
SP
SP
SP
SP
SP
S
SP
SP
S
S
8, 8
SP
SP
SP
SP
SP
SP
SP
SP
SP
SP
7, 7
SP
SP
SP
SP
SP
SP
H
H
H
H
6, 6
SP
SP
SP
SP
SP
H
H
H
H
H
5, 5
Dh
Dh
Dh
Dh
Dh
Dh
Dh
Dh
H
H
4, 4
H
H
H
SP
SP
H
H
H
H
H
2, 2 & 3, 3
SP
SP
SP
SP
SP
SP
H
H
H
H
Simple rules to follow here – always split 8's and Ace's, never split 10's and always continue to split should you be able to. Many variations of the game only allow 1 card after splitting, so don't expect to be able to split further cards.
When playing Blackjack, you should also consider your table position (the last seat can make or break a dealer's hand, so always try to control this.) You should never chase losses by doubling up after each hand unless you are using the double down feature. The double down bet however does not alter the house advantage in any way unless you double after splitting cards, in which case the house advantage is reduced by roughly 0.12%, assuming you have doubled as a result of a hand shown in our table guide.
You can play Live Blackjack at any the Live Casinos listed below, and don't forget to claim any bonus you may be due!